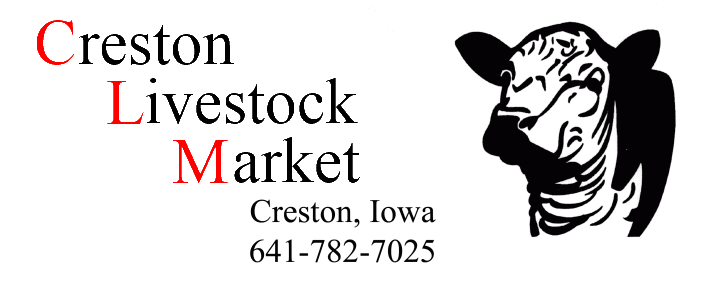 LISTEN TO OUR CURRENT SALE LISTING AD
Creston Livestock Auction Inc.
Creston, Iowa
FRIDAY JANUARY 11th 2019
Special "All Class" Cattle Auction
Selling All classes of Cattle!!
Kayla Siefkas..15 Angus x strs & hfrs 600-700# GT LTW
Jenette Williams..4 blk x strs & hfrs 550-600# GT
Many other cattle of all classes by sale time!!
Wednesday January 16th 2019 Special Calf & Yearling Auction
Wednesday January 23rd 2019 Special Bred Cow & Bred Heifer Auction
Wednesday January 30th 2019 Special Calf & Yearling Auction