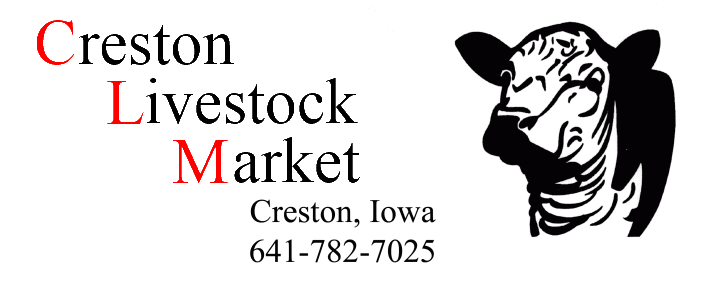 LISTEN TO OUR CURRENT SALE LISTING AD
Creston Livestock Auction Inc.
Creston, Iowa
FRIDAY FEBRUARY 16Th 2018 11:00 a.m.
Special "All Class" Cattle Auction
With Special Feature Of Bred Cows And Top Bred Heifers!!
BRED HEIFERS SELL AT 12:00 NOON SHARP!!
FEATURE CONSIGNMENTS..
Gary & Val Bailey..40 Big Fancy Angus 1st Calf Heifers (Vermillion Bloodlines) All AI Bred to Yellowstone to calve March 1st No Clean Up Bulls ALL AI BRED! A Big Top Reputation set of 1300# Heifers with great Disposition! Complete Vacc. Program
Allen & Candi Tanner..50 Fancy Angus 1st calf heifers (14) are Brandt Angus Bloodlines Balance are ½ sisters off one Montana Ranch, All are bred to Skarda and Brandt LBW Angus bulls. Due to start calving March 1st 60 day period. Complete Vacc. Program including 2nd scourgaurd shot. A top set of big good reputation heifers 1150-1200#
Steele & Sons LLC..125 outstanding cows consisting of: 50 Big Fancy Red Angus Cows 3rd calf to Aged, Bred to Finch Red Angus Bulls. 30 BWF cows 3rd calf to Aged, bred to Crawford or Raasch Angus Bulls. 15 Big Top Hereford Cows Bred to Crawford or Raasch Angus and Starlake Hereford Bulls and 30 Angus SS – Aged cows bred to Crawford or Raasch Angus Bulls. All due to Start calving March 15th 60 days Complete Vacc. Program. This is a partial dispersal of high producing cows!!
Ron & Debbie Gebhart..50 Angus & Angus/Hereford x cows. All bred to Top Genetics bull. 5 years to running age cow. Partial dispersal of cows due to sale of pasture. Top set of cows who will work in anyone's program!
Gary Taylor..48 Angus 1st calf heifers bred to Top LBW Angus bulls, Due to Start calving March 15th Complete Vacc. Program
Jeanette Williams..13 Angus & Red Angus Cows 10-12 years old, Bred Angus Due to dtart calving March 15th COMPLETE DISPERSAL
Roy Lumbard..11 Angus cows 8-10 years old, bred to Werner Angus Bulls, Start March 20th
Jordan Perrin & Phil Anstey..10 Big Xbred older cows, Bred Red Angus, due to start March 10th
Glen Hull..4 Char/Ang X Older cows Bred Angu March/April Calvers