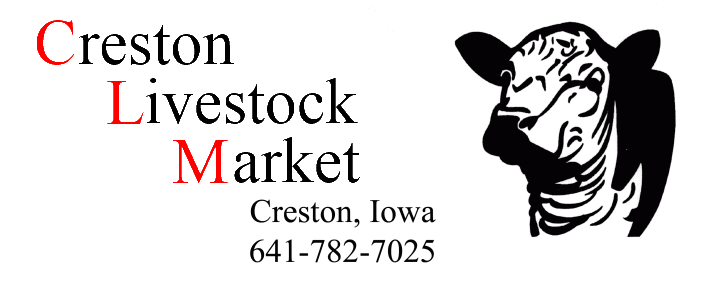 LISTEN TO OUR CURRENT SALE LISTING AD
Creston Livestock Auction Inc.
Creston, Iowa
Special Bred Cow & Bred Heifer And "All Class" Cattle Auction
Wednesday February 20th 2019 12:00 NOON
A Super Auction Featuring All Classes of cattle!!! This Will Be Our Only Auction This Week!!
FEEDER*
Larry Hanson..18 Nichols sired steers 800#
BRED COWS*BRED HEIFERS
Richard Fitzgerald…COMPLETE DISPERSAL of 36 Fancy Purebred and Commercial Red Angus Cows,Papers Available. Bred to Top Genetics Red Angus Bulls. Bulls in June 7th , Also selling 2018 heifer calves Complete Vacc. Program including Scourgard booster. We have sold Richard's Bulls and calves for years, He has Bred and Raised Top Red Angus cattle for years! Selling due to health reasons. For Info on Registered Cows go to www.crestonlivestock.com
Larry Hansen, Turtle Lake, Wisconsin..15 Fancy Angus Nichols sired 1st calf heifers, Heifers sired by Nichols Steadfast A149 and Bred to Nichols Quiet A443, Bulls in June 15th , A Top Set Of Big Quiet Reputation Heifers. Larry has been a Loyal Nichols Farms customer for 31 years!!
Also Selling 18 Angus x Nichols sired Steers 800#
Many other cattle of all classes by sale time!! Remember this will be our only auction this week!! NO AUCTION FRIDAY FEBRUARY 22nd