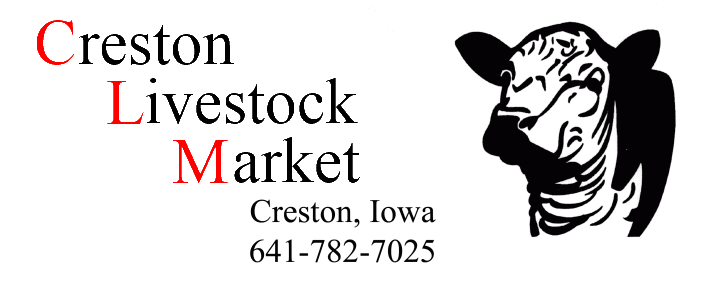 LISTEN TO OUR CURRENT SALE LISTING AD
Creston Livestock Auction Inc. Creston, Iowa
Special Bred Cow * Cow/Calf Pair* Breeding Bull Auction
Wednesday March 14th 2018 11:00 a.m.
Johnston Charolais Farms..Will offer 17 outstanding purebred spring and fall Charolais bulls at 1:00 p.m. for more info on these call Ed at 641-344-2691 or 641-344-0677
BRED COW & PAIR LISTINGS:
Harold Hedstrom..131 Outstanding Angus x & Red Angus x cows, consisting of 22 Black and Red 1st calf heifers, bred to Red Angus x bull
20 Black and Red 2nd calf cows
40 Black and Red 3rd & 4th calf cows, balance are 5th calf to aged all bred to Red Angus or Angus bulls, bulls were turned in on June 15th to start calving March 25th. Mostly all younger cows with a few older running age cows. All home raised. Complete Vaccination program. Complete dispersal, selling due to health reasons, a TOP set of high producing cows.
Jamie & Lisa Swanson..30 Fancy Angus 1st calf heifers w/3 week to month old calves @ side. All tagged to match. Calves at birth had 7-way, colostrum paste, multi-min shots. Heifers are on a complete vaccination program and custom mineral program. A TOP set of quiet, western origin pairs.
Scott Palmer..20 Angus running age cows, bred blk/sim, April Calvers Selling due to pasture lease
Steve Shelley..10 Angus x 1st calf heifers with calves at side, tagged to match
Larry Hansen..9 big fancy Nichols Genetics 1st calf heifers, bred to Nichols Steadfast A149, calving now
Carl Isreal..5 Angus 4-9 year old cows w/ month old angus calves @ side.
George Haidsick..20 Angus x running age fall calving cows, bred Angus
Tanner Lund..8 Angus running age cows, bred angus
Rick & Curt Thelen..3 Angus 3yr old 2nd calf fall calving cows bred Angus
Simons..2 yearling Hereford bulls
UPCOMING AUCTIONS
Friday March 16th 2018 Regular Cattle Auction
-----------------------
Friday March 23rd 2018 Special "All Class" Cattle Auction
In conjunction with the SW Iowa Gelbvieh breeders annual production sale
And Carl Rieste cow herd reduction Auction
----------------------
Wednesday March 28th 2018 Special Bred Cow & Cow/Calf Pair Auction
In conjunction with Huth Farms and Beef Resources partnership Annual Hereford Bull Auction
-----------------------
Wednesday April 4th 2018 Big Special "Back to Grass" calf & yearling Auction