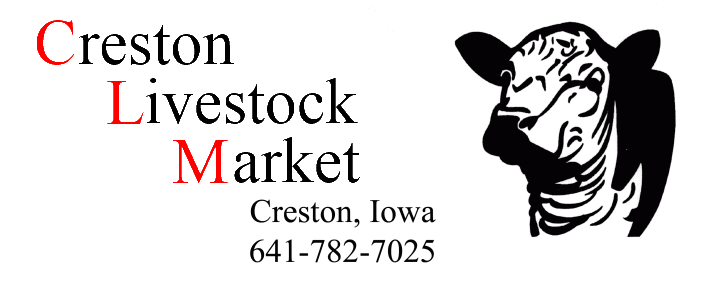 LISTEN TO OUR CURRENT SALE LISTING AD
Creston Livestock Auction Inc.
Creston, Iowa
Friday March 23rd 2018 11:00 a.m.
Special "All Class" Cattle Auction
In conjunction with the Southwest Iowa Gelbvieh Breeders Annual Sale
Carl Rieste ..(one of the founders of the SW Iowa Gelbvieh Group) will be having a herd reduction of 60 outstanding Gelbvieh purebred and percentage Gelbvieh and balancer bred cows. Carl will be offering the heart of his herd, keeping back only a few older cows to clean up his orchard with. This is a top set of high producing cows. For more info call Carl at 515-490-3561
We will be selling all classes of cattle!
Norvill Miller..18 Angus x strs & hfrs 500-700# Vacc
Richard Foster..6 Angus x strs & hfrs 500-700# GT