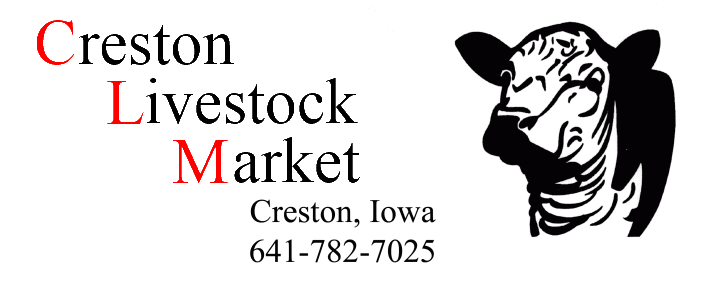 LISTEN TO OUR CURRENT SALE LISTING AD
Creston Livestock Auction Inc. Creston, IA
Friday May 11th 2018 11:00 AM
"All Class" Cattle Auction with
Special feature of Cow/calf pairs, Bred Cows, Breeding Bull Auction
This Offering Of Outstanding Pairs will be the Best You'll Find Anywhere!!! Along with Bradley Angus Farms Bull Sale at 1:00 p.m.
Feeders..
Murphy Farms..35 Angus x fall strs & hfrs 450-650# GT
Rick Oshel..12 RWF strs & hfrs 600# GT LTW
Tyler & Nick Edwards..10 Angus x fall strs & hfrs 500-600# GT LTW
Cow/Calf Pairs..
Jamie & Lisa Swanson..35 Fancy Angus & Angus Hereford F1X 1st calf hfrs w/ big,stout 6 week old calves @ side. All tagged to match. Calves @ birth had 7-way, colostrum paste, multi-min shots. Heifers on a complete vacc & custom mineral program. A TOP set of quiet, Western origin pairs! These will sell @ 11:30 sharp!!
Hoffman Family Farms..15 Angus 1st Calf heifers with big stout calves at side, calves all worked with pyramid 5 heifers poured and tagged to match. Ready to kick out!
Jonathan Neilson..40 Angus x young 3-6 year old cows w/big, stout Power Genetic calves @ side. All tagged to match. A big, good, quiet set of Western Pairs!
Blue Ridge Farms..40 Angus & Angus x SS-Aged cows w/ big stout calves @ side. Tagged to match. All calves are vaccinated! Nice set of running age pairs!
Dallas Wheatley..60 Angus x & xbred running age cows with calves at side, few bred cows
Kevin Sweeney..30 Angus & xbred running age cows with calves at side
Bruce Travis..20 Angus x Running Age Cows with Big Stout Nichols sired calves at side, Tagged to match, From Reputation customers!!
Melvin Bontrager..16 Angus x running age cows, with 200-300# Calves at side, calves tagged to match!!
Dean Raasch..10 Angus x 3-7 year old cows with big stout calves at side, Tagged to match.
Daryl Raasch..9 Purebred Angus Fall bred cows 2-7 years old All AI bred due to start August 1st Also selling 6 Open Purebred registered yearling Angus heifers
Richard VanDyke..4 Ang x young cows with calves at side, 3 Ang x cows calving now, 1 ang x yearling heifer
Richard Rupp.. 3 Angus running age cows w/ calves @ side
Breeding Bulls.. 1:00PM
Norbert Bradley, Bradley Angus Farms ..11 Angus yearling bulls and 3 Two year old Angus Bulls. Top bloodlines. Quality Genetics. Service ready, feed efficiency tests, EPDS and scores available sale day! For more Info on these bulls call Norbert at 641-344-3875
Lans Gibbs.. 2—4 YO Nichols genetic Angus bulls.
Ogden & Lindsay…2-2 YO calving ease Black Gelbvieh bulls
Dick Graham.. 2 yearling Horned Hereford & 2 Polled Hereford bulls. Top bloodlines.
Dwayne Henrichs..1 Red Angus 2 YO heifer bull. Top bloodlines. Mulberry breeding.
John Jungman..1 Angus/sim x 4 yr. old bull, Wolfe breeding, great bloodlines, great disposition
The market is demanding quality genetics so come pick from some of best around. Keep improving your calf crop to help keep buyers wanting them!
Upcoming Auctions
Monday May 14th 2018 12:00 Noon South Central Iowa Hay Auction
---------------------
Friday May 18th 2018 Special "All Class" Cattle auction
--------------------
Friday May 25th 2018
NO AUCTION Have a Happy and Safe Memorial Day Weekend!!
---------------------
Friday June 1st 2018 Special "Summertime" Cattle Auction
You Can Now View Our Auctions Live At:
LMA auctions.com