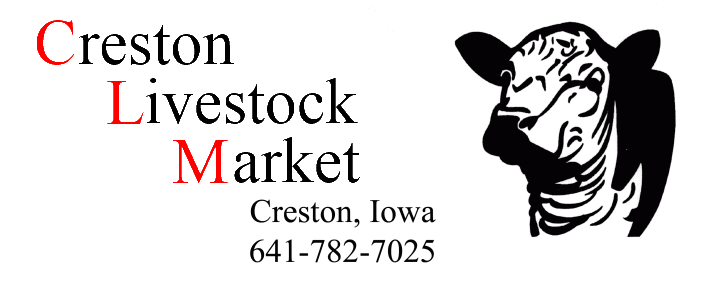 LISTEN TO OUR CURRENT SALE LISTING AD
Creston Livestock Auction Inc.
Creston, Iowa
Regular Cattle Auction
Friday June 15th 2018 11:00 A.M.
Selling all classes of cattle!!!!
Stan Leaders..2 yearling Angus calving ease bulls, Top Bloodlines
Travis Troutwine..10 Angus x running age cows, bred Angus, some with calves at side, balance calving now
England Family..11 Angus x fall calves 450-600# GT LTW
Many other cattle of all classes by sale time!!
UPCOMING AUCTIONS
Saturday And Sunday June 16th and 17th 2018 9:30 a.m.
Stanley Pelzer Estate Auction 71595 620th Street, Griswold, Iowa
John Deere Collectibles and Primitives of all kinds!!
Go to www.crestonlivestock.com for complete Sale bill!!
-------------------------------
Friday June 22nd and Friday June 29th NO AUCTIONS
Friday July 6th No AUCTION
Special Summertime Cattle Auction
Friday July 13th