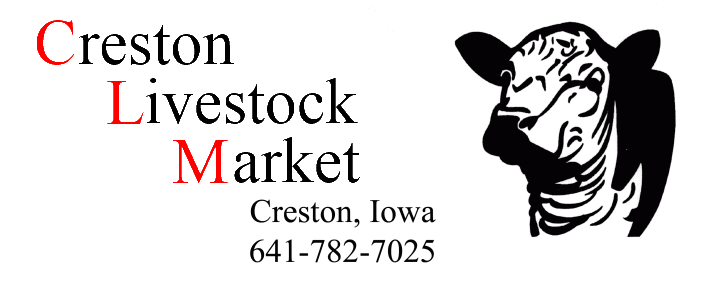 LISTEN TO OUR CURRENT SALE LISTING AD
Creston Livestock Auction Inc.
Creston, Iowa
Friday July 13th 2018 11:00 a.m.
Special "Summer Time" Cattle Auction
Selling All Classes of Cattle
FEEDERS
Evergreen Ridge..30 Angus x fall strs & hfrs 550-650# GT LTW
Kerry Snyder..30 Ang/hereford x fall strs & hfrs 650-750# GT LTW
Garth Proctor..3 Angus x steers 800-900# 1 Big Guernsey steers 1000# and 5 bred heifers
BRED COWS AND COW/CALF PAIRS
C.W. Johnson Family Dispersal..15 Sim/Ang x cows, mostly 6-7 years old. 10 with bull calves at side balance fall calvers, also selling 2 yr. old Blk/limo bull and yearling Sim/Ang x bull and 6 open yearling heifers.
Home Place Cattle Co…Complete Dispersal ..9 Big Angus 4-5 year old cows, 6 Blk Brof 4-5 year old cows all with 200-300# Calves at side, 6 Fall Bred cows, 2 Yearling Angus Virgin Bulls and 2 open Yearling Heifers All originated out of Show Me Select Program. Selling due to drought conditions
Hoffman Family..6 Big Angus SS mouth cows with 250-300# Calves at side
Many other cattle of all classes by sale time.
UPCOMING AUCTIONS
Saturday July 21st 2018 Junior Huls Estate Tractors, Machinery and Equipment Auction. West of Creston, Iowa
Friday August 3rd 2018 Special Summer Time Cattle Auction
Saturday August 11th 2018
Flying A Feedlot Close-Out Auction, West of Red Oak, Iowa
Saturday August 25th 2018
Ken & Flo Young Retirement Farm Machinery Auction, Earlham, Iowa
VERY Clean, Near new John Deere Tractors & Equipment!!
Wednesday August 22nd 2018 Special Anniversary BBQ Cattle Auction
Call our FAMILY for all of your FAMILIES Auction Needs!!!