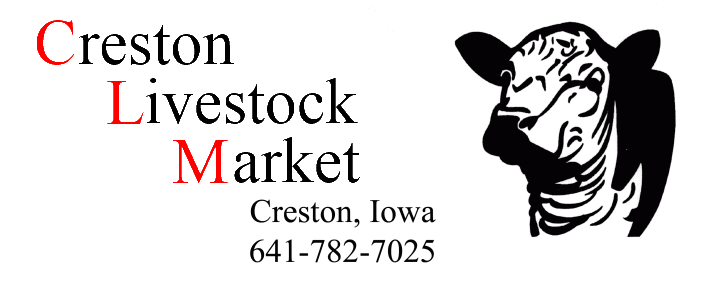 LISTEN TO OUR CURRENT SALE LISTING AD
Creston Livestock Auction Inc.
Creston, Iowa
Special Bred Cow And Cow/Calf Pair Auction
In conjunction with our regular Friday Auction
Friday September 14th 2018 11:00 a.m.
Early Listings..
Jonathan Nielson..50 Big Fancy 3-5 year old Angus & Ang x cows with June/July Power Genetic calves at side. Not been back with bull, Complete Vacc.and mineral Program. Top set of pairs!!
Lone Oak Farms, So. Iowa Division..25 Angus x 3-6 year old cows with Big June/July calves at side, not been back with bull. Complete Vacc. and Mineral program. Nice set of Summer pairs!!
Werner Family Angus ..10 Angus running age fall calving cows, bred Angus, calving now
Many other consignments pending at ad time!!
UPCOMING AUCTIONS
Friday September 21st 2018
Regular "All Class" Cattle Auction
----------------------
Monday September 24th 2018
Annual Fall Machinery Consignment Auction
---------------------
Friday September 28th 2018
Regular "All Class" Cattle Auction
--------------------
Wednesday October 3rd 2018
Big Special Yearling and New Crop Calf Auction