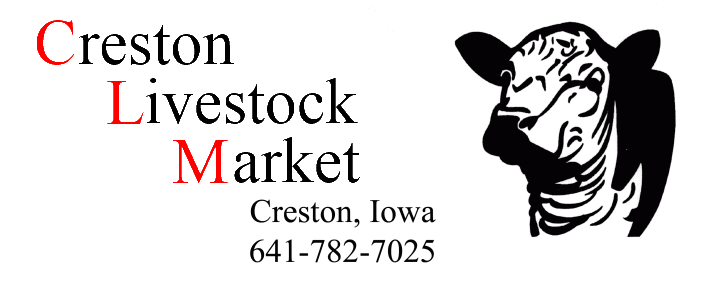 LISTEN TO OUR CURRENT SALE LISTING AD
Creston Livestock Auction Inc.
Creston, Iowa
Regular Cattle Auction
Friday September 21st 2018 11:00 a.m.
Early listings…
Ron Moffitt..16 Angus x new crop calves 400-500# off cows
Jamie Mitchell.. 1 char x fat steer 1200#
Mike Irwin… 1 angus x fat steer 1300#
Many other cattle of all classes by sale time!!
UPCOMING AUCTIONS
Monday September 24th 2018 10:00 a.m.
Annual Fall Machinery Consignment Auction
Go to our website at www.crestonlivestock.com to view sale bill
-----------------------------
Friday September 28th 2018
Regular "All Class" Cattle Auction
----------------------------
Wednesday October 3rd 2018
Special "Harvest Time" Yearling & New Crop Calf Auction
----------------------------