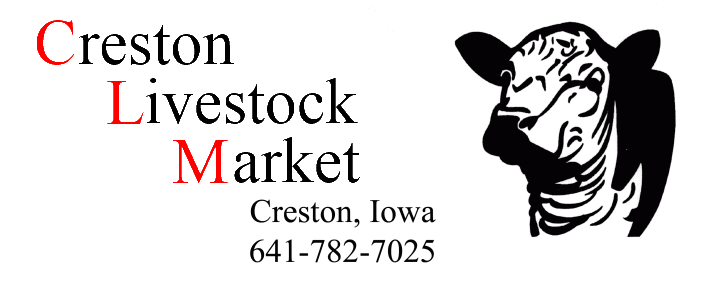 LISTEN TO OUR CURRENT SALE LISTING AD
Creston Livestock Auction Inc.
Creston, IA
Special "All Class" Cattle Auction
Friday October 12th 2018 11:00AM
Early listings…
Murphy Farms...95 Angus/hereford x strs & hfrs 500-650# GT
Rob Ruckman..16 Angus/Hereford x strs & hfrs 550-700# LTW
Jamie Swanson..10 Ang/Hereford x yearling strs & hfrs 800#
Scott & Jessica Smith..2 Hereford x calves 300-400# Vacc off cow
Ernie & Richard Mercer..2 X bred steers 800-850#
Several of our advanced consignments for this auction have moved to next Fridays auction due to weather and road conditions. Watch our website for updated listings!!
Many other cattle pending by ad time. Come expecting a nice run of new crop calves & yearlings!
Upcoming Auctions..
Monday October 15th SCIHS hay auction 12:00
Friday October 19th"All class" Cattle Auctions
Wednesday October 24th Special Bred Cow & Cow/Calf Pair Auction
Wednesday November 7th Special calf & yearling Auction