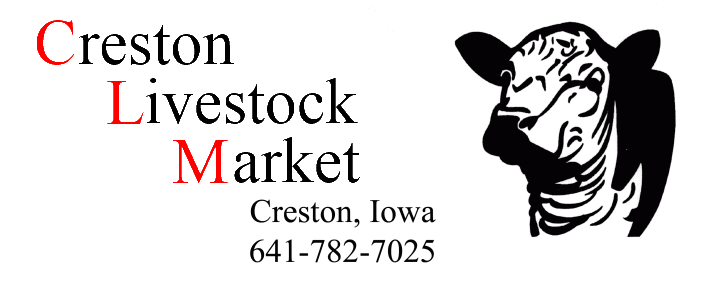 LISTEN TO OUR CURRENT SALE LISTING AD
Creston Livestock Auction Inc.
Creston, Iowa
FRIDAY NOVEMBER 16th 2018
SPECIAL STOCK COW & BRED HEIFER AUCTION
In conjunction with our regular Friday Auction
Joe & Sherry Bartlett DISPERSAL..30 Ang x Running Age Cows, Bred Ang,Due to start calving March 1st
Jason Lynch Family DISPERSAL..20 Char x 4 year old, bred Angus due to start calving March 1st and 8 xbred 3-5 year old cows with big calves at side
Theresa Tapken DISPERSAL..17 xbred running age cows, Bred Char, Bulls in June 1st
FEEDERS..
Bartlett Family..30 Angus x calves 350-500# GT
Lynch Family..20 char/ang x calves 500-550#
Steve Allen..17 Angus x calves 500-600# GT
Many Other cattle of all classes by sale time!!!
CATTLE PRODUCERS, TAKE NOTE!! MONDAY EVENING NOVEMBER 19th 2018 5:00 p.m.
THE RINGGOLD,UNION,ADAMS AND CLARKE COUNTY CATTLEMAN ARE SPONSORING A BQA CERTIFICATION SUPPER AND CLASS. THE CATTLEMAN WILL BE GRILLING AND SERVING HAMBURGERS. CURT PATE WILL BE DOING A LOW STRESS ANIMAL HANDLING DEMONSTRATION AS WELL AS OTHER TALKS AND PRESENTATIONS ON BQA REQUIREMENTS.
SEVERAL PACKERS AND FEEDYARDS ARE STARTING TO REQUIRE THAT PRODUCERS GET BQA APPROVED!! BE SURE AND ATTEND THIS EVENT!
PLEASE RSVP TO THE UNION COUNTY EXTENSION OFFICE BY FRIDAY NOVEMBER 16th AT 641-782-8426
NO AUCTIONS November 21st 0r 23rd 2018
Have a Happy an Safe Thanksgiving Holiday!!!
Wednesday November 28th Special Calf & Yearling Auction
Wednesday December 5th 2018 Special Calf & Yearling Auction
With Special Feature of Nichols Sired Calves!!