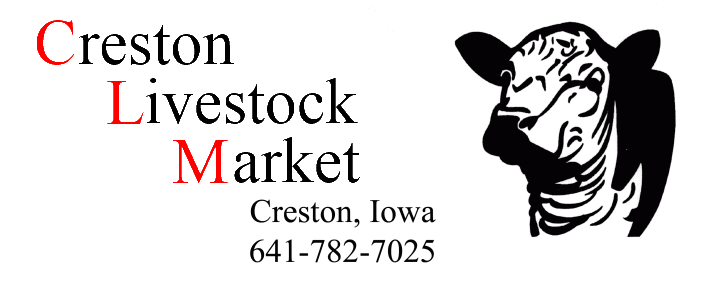 LISTEN TO OUR CURRENT SALE LISTING AD
Creston Livestock Auction Inc.
Creston, Iowa
FRIDAY DECEMBER 7th 2018 SPECIAL "ALL CLASS" CATTLE AUCTION
SELLING AT 10:00 A.M. BEFORE CATTLE AUCTION…UNION COUNTY LAND LEASE APPOX.170 ACRES TIMBER AND PASTURE LOCATED BETWEEN AFTON & CRESTON..3 YEAR LEASE.. FOR MORE INFO ON THIS CALL DARWIN WEST AT 641-344-1958
CATTLE LISTINGS..
True Family Farms..125 Angus x strs & hfrs 450-600# GT
Bill Tridle..60 Angus x strs & hfrs 400-550# GT
Afton..60 Angus x strs & hfrs 450-600# GT
Ron & Becky Supinger..55 Angus x strs & hfrs 450-550# GT
Many other cattle of all classes by sale time!!
UPCOMING AUCTIONS
Wednesday December 12th 2018 Special Calf & Yearling Auction
Friday December 14th 2018 Special "All Class" Cattle Auction
Wednesday December 19th 2018 Special Bred Cow & Bred Heifer Auction
Listen to our radio ads on KMA 99.1 FM during the 9:30 a.m. markets!!