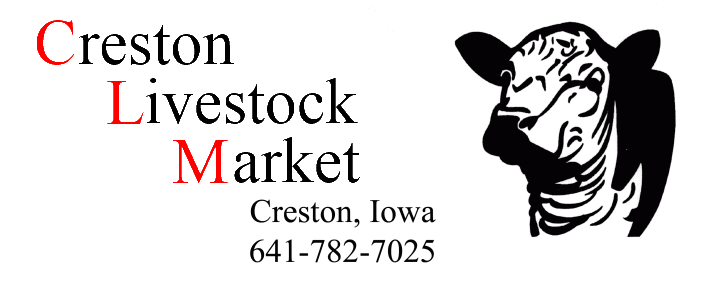 LISTEN TO OUR CURRENT SALE LISTING AD
Creston Livestock Auction Inc.
Creston, Iowa
Special Holiday Bred Cow & Bred Heifer Auction
Wednesday December 19th 2018 11:00 a.m.
A Great Offering of Top Bred Heifers and Young Cow Herd Replacements!!
Double K Angus, Kurt Kiburz Estate…150 Commercial Angus cows, 4 years to Adult cows, Bred Angus. March & April Calvers, Also selling (20) 18-20 month old Angus Bulls, Top Bloodlines.
Wyer's W-Rail Ranch, Iowa Unit…92 Big fancy stout Blk and Bwf cows, 6 years old to SS mouth, bred to top Angus and horned Hereford bulls, due to start calving March 10th. Every cow weaned a 600 lb + calf in October.
Dennis & Teri Murphy..70 Fancy 1st Calf Heifers consisting of (30) Big Fancy Angus home raised heifers, AI Bred to Fortress & Patriot and cleaned up with Muskfelt LBW Angus bulls to calve February 15th Cleanup Bulls in 45 days. And (40) Fancy Red & RWF Red Angus x Heifers AI Bred to Liberty, All Half Sisters off a 4th Generation Colorado Ranch, Dennis has purchased and bred these heifers for many years. All of these heifers have been ultra sounded for pregnancy and sex of calf, All of these heifers went through the Mike & Nick Hunter Heifer Development program and a Vet Certified breeding soundness Program. A Real Top Set Of Well Managed Quiet Gentle Bred Heifers. DON'T MISS THESE!!
Don Hardin..4 comm. Shorthorn 1st calf heifers, bred to LBW Shorthorn bull, 5 comm. Shorthorn cows, 4-7 years old bred Shorthorn and 3 Black Hereford cows, bred black Hereford all April/May calvers
Ron Moffitt..8 Angus x running age cows, bred Angus due March 10th
Many Other Bred Cows And Bred Heifers BY Auction Time! This will be our only Auction this week, so we will be selling all classes of cattle!!
UPCOMING AUCTIONS
Friday December 21st And Wednesday December 26th NO AUCTIONS, MERRY CHRISTMAS!!
Friday December 28th 2018 Special "End Of Year" All Class Cattle Auction
Wednesday January 2nd , 9th and 16th All Big Special Calf & Yearling Auctions