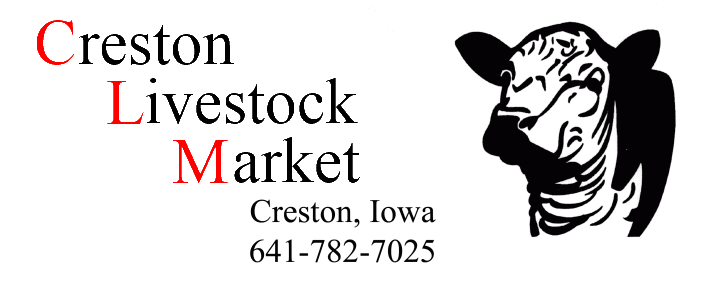 LISTEN TO OUR CURRENT SALE LISTING AD
OFFICE MANAGER POSITION
Creston Livestock Market, LLC
201 N Cherry St
Creston IA 50801
641-782-7025
We are looking for an Office Manager who is an energetic professional that doesn't mind wearing multiple hats. This person should be experienced in handling a wide range of administrative duties and executive support-related tasks and able to work independently with little or no supervision. Well organized, flexible, and enjoys the administrative challenges of supporting an office of diverse people.
Qualifications required but not limited to:
Proven office management, administrative or assistant experience;
Strong organizational and planning skills. Attention to detail & problem solving;
Excellent written and verbal communication skills;
Knowledge of accounting, data, and administrative management practices;
Manage relationships with vendors & service providers ensuring that all items are invoiced and paid on time;
Knowledge of human resources management practices & procedures including payroll, monthly, quarterly and year end reporting;
Excellent time management skills and ability to multitask and prioritize work;
Excellent computer skills and working knowledge of the following software packages:
QuickBooks Online
Microsoft Office
Thunderbird email
Web design and updates using the following software:
KompoZer
FileZilla
Resumes can be sent to office@crestonlivestock.com or brought into the office located at 201 N Cherry St in Creston Iowa.