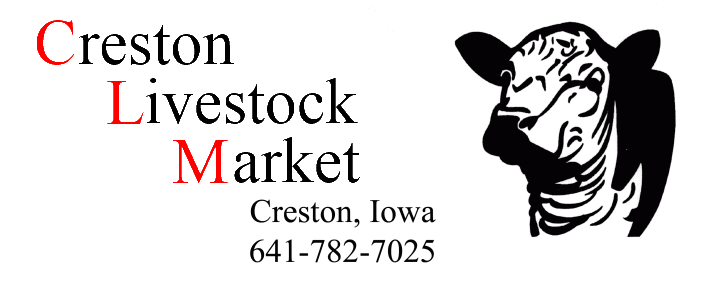 Creston Livestock Market is located in Creston , Iowa. The barn is owned by Cody Frey and Curt and Heather Sporleder. We sell all classes of cattle, with our regular sale day as Friday and in addition in the winter we have special Wednesday sales also. Start time is 11:00A.M You can now view our auctions live at:
https://www.cattleusa.com/

Applications for online bidders need to be made

3 days

before the sale date to allow for approval time. Bidders need to contact the office, and their lending or banking company, and let them know that they are requesting to bid online.

Please note, you may be asked to complete a Buyer Registration and Consent Agreement for additional bank information and a signature.

You may complete an account to view the internet broadcast at https://www.cattleusa.com/

Click here to see a list of our upcoming Hay Auctions. A loader will be available to unload and available from after sale to load. Special arrangements can be made to offload or load hay. Sales will be located on the east lot of CLM north of the chutes. Schedule subject to change due to supply and demand. Any questions or to consign please contact: Cody Frey 641-344-6112; Curt Sporleder 660-216-2855; Jake Rice 641-202-3315 or Creston Livestock Market 641-782-7025.

The CLM Cafe is open Monday-Friday for breakfast and lunch.

Our

Sale Veterinarians

are Southern Hills Veterinary Services.



Private Treaty Sales

are available upon request.